Bio
Né en Écosse d'une mère professeur d'anglais et d'un père chef d'entreprise, Philippe Goirand prend l'avion 2 mois plus tard pour la France et une installation à St-Gaudens. Depuis, le poursuit le péché originel de surproduction de Gaz à Effet de Serre…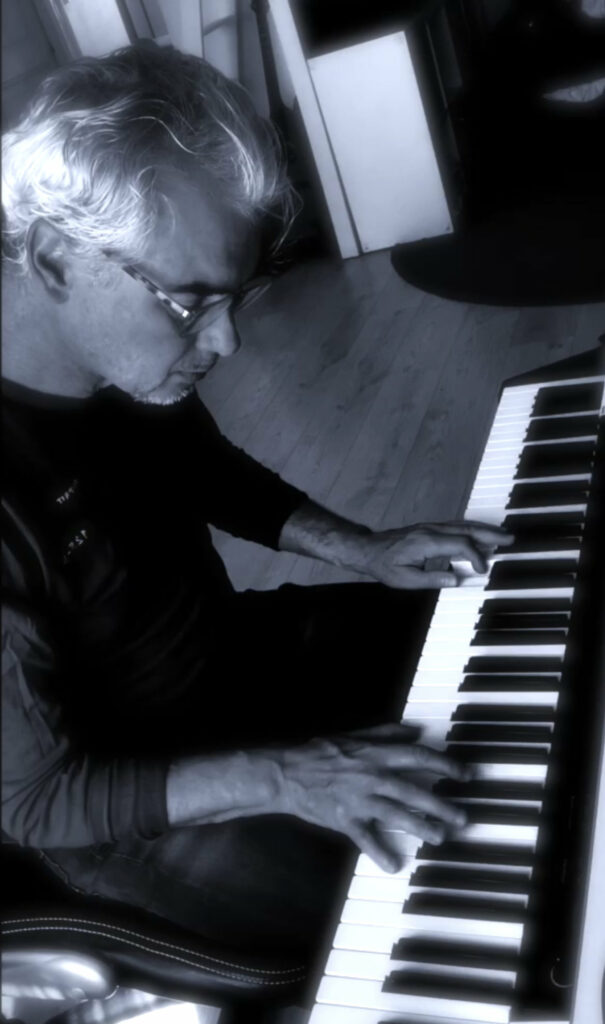 4 années de cours de piano traumatisantes l'amènent à continuer seul dans son garage puis « accompagné » par son frère batteur, d'où un jeu plutôt rock'n roll, déjà pour se faire entendre.
La politique l'intéresse dès le collège, deux camarades de droite le snobant le lendemain de l'élection de Mitterrand… Au sein de son groupe « G Point », créé après un mémorable exposé en SVT, il compose, écrit, chante et étrenne son premier Synthé Roland JX3P. En classe prépa HEC avec en tête de faire de la musique, le contenu des cours achève de le convaincre que la musique, c'est mieux. Suivent des études en communication.
Intermittent du spectacle fils de pub à Toulouse, il compose dans son studio de MAO des musiques à l'image dont l'habillage d'antenne de la chaine d'infopub locale TLT, écrit des textes publicitaires, court les maisons de disques avec ses maquettes et finit par convaincre le patron du studio Polygone de le produire. Le N°2 du label RCA aime, mais pas le n°1… Désespéré, il créé sa petite entreprise Click Art dans la conception de sites web et la formation.
Ecologiste depuis la prise de conscience de son traumatisme initial, Philippe veut s'impliquer dans la vie de sa cité et de notre petite planète. Il rejoint « naturellement » les Verts, éclectique dans ses thèmes d'engagement : agriculture bio, économie, santé… et le vélo urbain qui devient son combat comme élu toulousain.
Une élection perdue plus tard, déterrant une version virtuelle de son Synthé JX3P, il compose Close to Robert, ode à la synthpop des 80s (Human League, Depeche Mode, Cure…) au point que ce morceau donne son nom à son projet musical. Mais son amour des Beatles, de David Bowie, le piano à queue du pub d'en face, sa découverte tardive de la Fender Telecaster et d'un possible rapport charnel avec son instrument, sa passion pour le mixage et les recréations virtuelles de matériels vintage hors de prix… influencent tout autant son travail musical.
Les textes reflètent la sensibilité écolo de leur auteur (pas tout le temps…) en prenant des chemins variés, autodérision, absurde, 1er, 1,5e et 2e degré, la première personne ne consistant pas forcément à raconter sa vie. Sa vie privée n'a d'ailleurs rien d'intéressant.
Born in Scotland to an english teacher mother and a business manager father, Philippe Goirand took the plane 2 months later to France and settled in St-Gaudens. Since then, the original cabon dioxide overproduction sin is still haunting him…
4 years of traumatic piano lessons led him to continue playing alone in his garage then « accompanied » by his drummer brother, explaining his rock'n roll style, first to be heard.
Politics interested him from middle school, two friends snubbing him the day after president Mitterrand's election… Within his music group « G Point », created after a memorable presentation in biology course, he composes, writes, sings and discovers his first Roland JX3P Synth. Choosing economic studies in Toulouse with the idea of ​​making music, the course content convinces him that music is better. Studies in communication follow.
After studies, Philippe composes in his computer-based music studio for movies, including the musical design of the local infomercial tv TLT, writes advertising texts, visits record companies with his demos, convincing the boss of the Polygone studio to produce it. The No. 2 of the RCA label likes it, but not the No. 1… Desperate, he creates his small business Click Art in website design and training.
An ecologist since he became aware of his initial trauma, Philippe wants to get involved in his city life and our small planet. He « naturally » joins the Greens, eclectic in his commitment themes: organic agriculture, economy, health… and urban cycling which become his fight as an elected official from Toulouse.
A lost election later, unearthing a virtual version of his JX3P Synth, he composes Close to Robert, an ode to 80s synthpop (Human League, Depeche Mode, Cure…) to the point that this piece gives its name to his musical project. But his love of the Beatles, David Bowie, the grand piano in the pub across the street, his late discovery of the Fender Telecaster (so exciting to take your instrument against your body…), his passion for mixing and virtual recreations of expensive vintage equipment… all influence his musical work just as much.
His lyrics reflect his ecological sensitivity (not all the time…) by taking varied paths, irony, self-mockery, absurd… Writing « I » doesn't necessarily consists in telling his life. By the way, his private life is not interesting.