The Kitchen
(homestudio Close to Robert)
To make home made synth pop music, it's a question of time, sweat dreams, patience and home studio…
La synthpop music de Close to Robert est entièrement réalisée à Toulouse, en circuit imprimé court. Aucun ordinateur n'a été maltraité ni aucun logiciel. En cours d'obtention des labels « Safe neighbourhood », « Keyboard respect », « Organic singer » & « 80′ recycled ».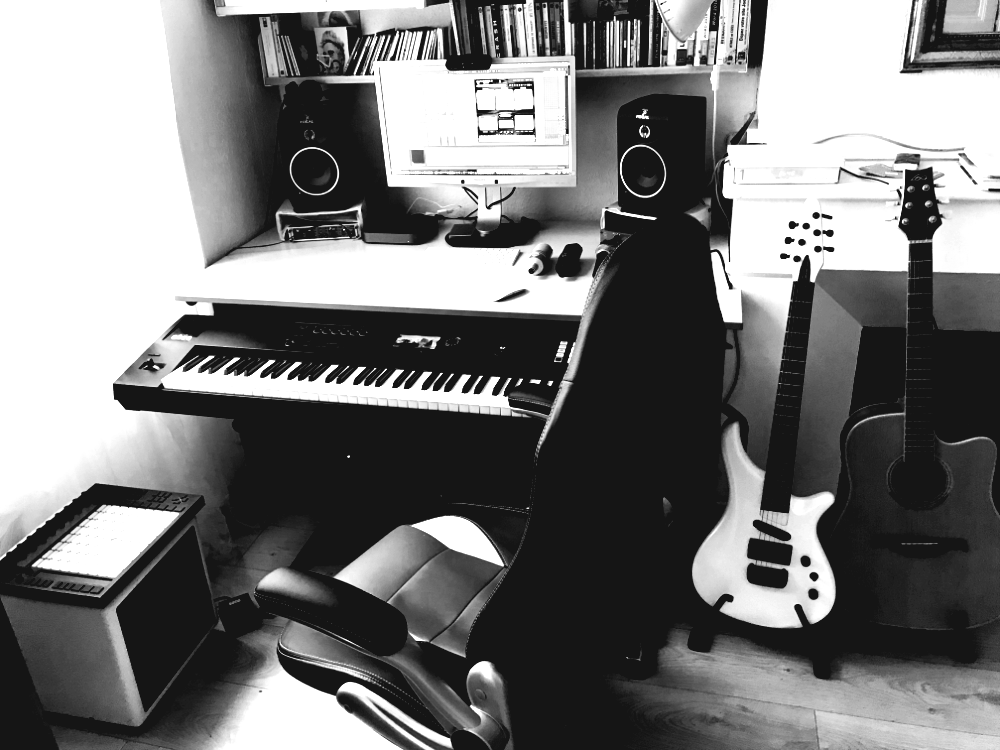 Core I7 exacore Apple Mac Mini computer : small and powerfull!
RME Fireface UCX soundcard : small, transparent and professionnal!
Digital Audio Workstation softs Ableton Live with Push control surface & Apple Logic Pro X ; I use first or second depending on the mood. I like the simplicity of Ableton Live. I like playing and recording with a piano sound in Logic Pro X without following a clic. The DAW find the tempo after my recording.
Plug-ins Modartt Pianoteq 7 (a marvelous modeling piano created in Toulouse), Arturia V Collection & FX Collection (great modeling of major models of synth and fx), Native Instruments Komplete, Roland JX3P (modeling of the synthesizer from 1983), iZotope Ozone (standard solution for mastering), Neutron, Nectar, Vocal Synth, Nimbus reverb, FabFilters Pro-Q2, Pro-C2, Pro-R, Pro-MB, Pro-L, Timeless 3, Simplon, Twin 2, Saturn, Valhalla Echo, Plate & Vintageverb reverb, DMG compressors, UVI Thorus…
Roland FA08 Keyboard ;
Lag folk guitar ;
Fender Telecaster ;
SGC Nanyo G3 electric guitar ;
Audio Technica AT4080 AT4033, AKG C1000S, Shure SM58 microphones
Golden Age Pre-73 pre-amp ;
Focal CMS 50 & Digital Design LS6 monitors ;
Sennheiser HD25 headphone.