The Kitchen
(homestudio Close to Robert)
To make home made synth pop music, it's a question of time, sweat dreams, patience and home studio…
La synthpop music de Close to Robert est entièrement réalisée à Toulouse, en circuit imprimé court. Aucun ordinateur n'a été maltraité ni aucun logiciel. En cours d'obtention des labels « Safe neighbourhood », « Keyboard respect », « Organic singer » & « 80′ recycled ».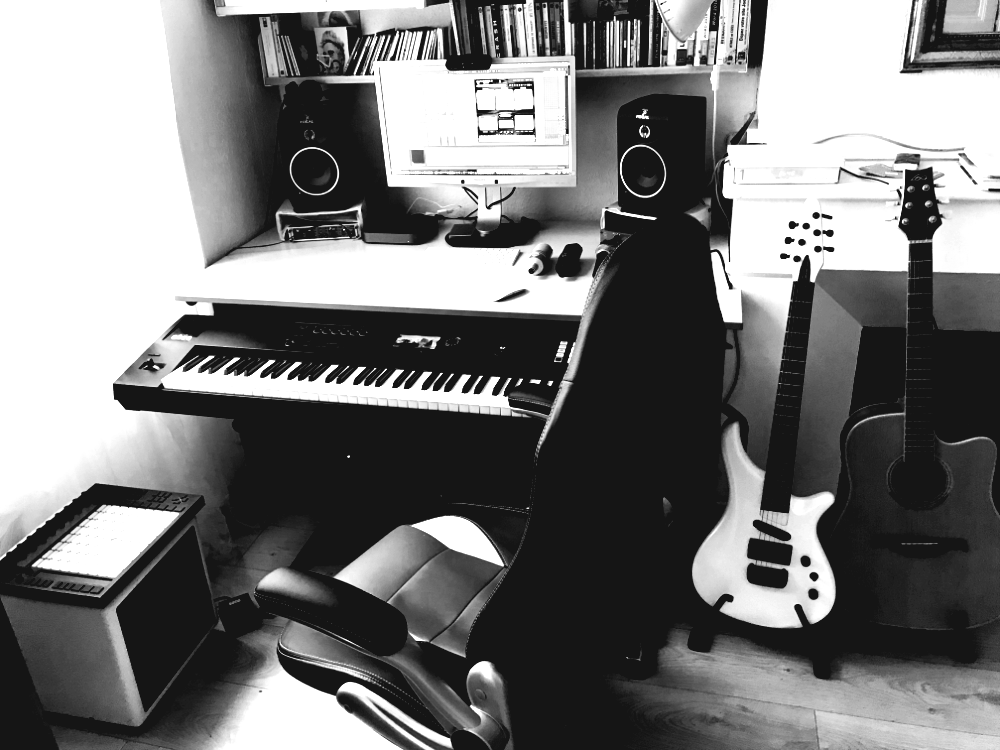 Apple MacStudio computer.
RME Fireface UCX audio interface.
Digital Audio Workstation softs Ableton Live with Push control surface & Apple Logic Pro X ; I use first or second depending on the mood. I like the simplicity of Ableton Live. I like playing and recording with a piano sound in Logic Pro X without following a clic. The DAW find the tempo after my recording.
Plug-ins Modartt Pianoteq (a marvelous modeling piano created in Toulouse), Arturia V Collection & FX Collection (great modeling of major models of synth and fx), Native Instruments Komplete, Roland JX3P (modeling of the synthesizer from 1983), SSL channel strip & bus compressor, BlackBird N73 preamp & eq (great modeling of Neve 1073), iZotope Ozone (standard solution for mastering), Neutron, Nectar, Vocal Synth, Exponential Audio reverbs, FabFilters Pro-Q3, Pro-C2, Pro-R, Pro-MB, Pro-L, Timeless 3, Simplon, Twin 2, Saturn, Valhalla Echo, Plate & Vintageverb reverb, DMG compressors, UVI Thorus…
Roland FA08 Keyboard ;
Lag folk guitar ;
Fender Telecaster ;
SGC Nanyo G3 electric guitar ;
Audio Technica AT4080, AT4033, AKG C1000S, Shure SM58 microphones
Golden Age Pre-73 pre-amp ;
Focal CMS 50 & Digital Design LS6 monitors ;
Sennheiser HD650, HD25, Beyerdynamic DT700Pro headphones.